Ear Lobe Repair
Repairing the large holes created by gauge earrings will take about an hour.  It's a simple in-office procedure.
Below, my patient tore her earlobe with an earring. In the "after" photo you see my sutures that will stay in for 2 weeks.
Genius
The Lutronic Genius uses high intensity focused RF (radio frequency) through gold-plated micro-needles to stimulate collagen. This technology addresses a number of skin concerns and provides long-lasting results.  In the before and after photos below you can see the skin has tightened.  Also the lines and wrinkles are softened after several Genius treatments.

Keloids
This patient had a large keloid on her chest. We started injections in December and the "after" photo you see is from early May. I chose injections over surgical removal because I felt surgery would risk recurrence, which could be larger and worse.
Keloid – right ear after one month
Keloid – left ear after five months

Keloid below caused by helix piercing.
"After" photo is about one month post op.

Silhouette InstaLift
Silhouette InstaLift uses micro-suspension technology to provide you with an immediate lift and gradually restore lost facial volume in the mid-face by triggering your own collagen production.  Below, my patient's jawline is tightened and the InstaLift also lessened the lines around her mouth.
The patient below:  jawline and jowls were tightened with Silhouette InstaLift. Also, notice how her nasolabial lines (that run from the bottom of the nose to the corners of the mouth) are significantly lessened.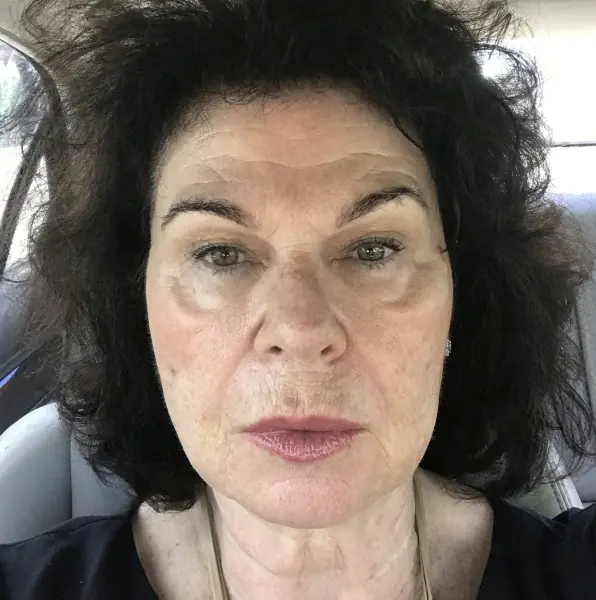 Kybella®
Permanently destroys fat cells under the chin caused by genetics, weight gain or age.  Improves the profile of adults with moderate to severe submental fat (double chin).  More than one treatment may be needed for optimal results.
Juvéderm Ultra
This patient below is in her early 20s. I gave her the fuller lips she desired with Juvederm Ultra. The after photos were taken immediately after injections. Are you ready to #JuvedermIt ?
I used one syringe of Juvederm Ultra in the lips of my patient below who is in her late 20s.  Millennials love to #JuvedermIt !  The after photo was taken immediately after injection.
Juvéderm Volbella and Vollure
My patient, who is in her 60s, wanted to get rid of the lines above her lips and also add volume to her upper lip. To reduce the "lipstick lines" above her lip, I used Volbella. In her lip, I used Vollure.
Vollure provides subtle, natural volume and is more spreadable – it can be smoothed out to exactly where you need it.
Juvéderm Volbella
Volbella is a longer lasting treatment to increase lip fullness and to soften lines around the mouth.  Volbella can created a natural-looking, plumper lip when injected by an expert.  Volbella lasts through one year, while other fillers dissipate in six months.
RADIESSE® for Marionette Lines
Marionette lines form when you lose facial volume, creating vertical creases that run down from the corners of your mouth.  To restore this lost volume and minimize the wrinkles and folds, I treated these patients with RADIESSE®. Clinical studies show the results can last a year or more in most patients. The filler also stimulates collagen production.  The "after" photos were taken immediately after the injections.

BOTOX®
BOTOX® Cosmetic is a highly purified protein injected into the skin to relax the muscles that cause some kinds of wrinkles.
Juvéderm®
Juvéderm® is a hyaluronic acid filler for wrinkles and smile lines around the mouth and nose.
Juvéderm Voluma XC®
Juvéderm Voluma XC® is a newer hyaluronic acid formulated to be long lasting and add volume to the cheeks that may have gradually flattened and decreased over time.
Restylane®
Restylane® is an injectable filler, used for smoothing out facial wrinkles. It is a biodegradable gel composed of hyaluronic acid, a natural substance occurring within the body. In addition to adding fullness to the skin, Restylane attracts water molecules to the site of the injection, further enhancing its effectiveness.
RADIESSE® Volumizing Filler
RADIESSE® volumizing filler is a synthetic injectable filler that has been U.S. Food and Drug Administration (FDA)-approved for reducing moderate-to-severe wrinkles, folds and creases around the nose and mouth by augmenting the skin's natural collagen supply. It is a safe, effective and long-lasting alternative to injectable collagen and other dermal fillers for smoothing wrinkles and adding facial volume and contour.
Sculptra®
Sculptra® is an injectable product that corrects the signs of facial fat loss (lipoatrophy) by restoring lost volume in the skin. Lipoatrophy can result in sunken cheeks, indentations and hollow eyes. Injected into the deep dermis layer of the skin, Sculptra® provides a gradual and significant increase in skin thickness, improving the appearance of folds and sunken areas.
Dysport®
Dysport® injections are ideal for nearly anyone wishing to reduce the appearance of fine lines and wrinkles on the face and restore a younger, more refreshed appearance. The injections are administered directly into the facial muscles that cause frown lines and other wrinkles.

        
Xeomin®
Xeomin® is a form of botulinum toxin type A that can be injected into the muscles just beneath the skin to reduce facial lines and wrinkles. Particularly effective in treating deep frown lines between the eyebrows, Xeomin has received FDA approval.
Restylane® Silk
Restylane® Silk is designed specifically for lips and the lines around them. Made of smaller, smoother particles and administered with an ultra-fine needle for accuracy, it provides natural looking results.