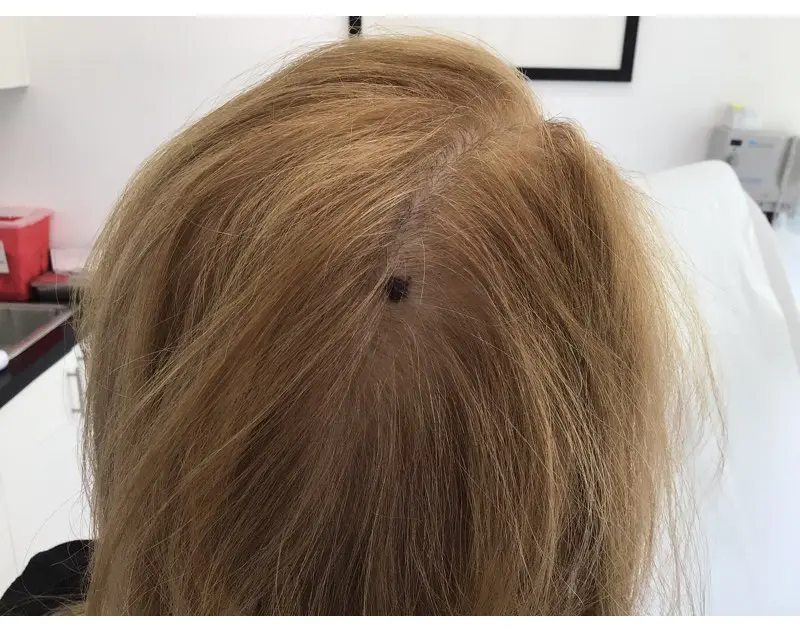 Back in January, I posted to social media this photo of my patient who developed a big melanoma during quarantine.  After hunkering down for months, she finally went to get her hair done and her hairdresser alerted her to the growth.  She came to see me immediately in December and the biopsy I did showed melanoma. She is now being treated by an oncology surgeon.
The melanoma was removed, but since her surgery, additional cancerous sites on her scalp have been found and removed.  She has also started immunotherapy to treat the cancer.  Patients with advanced melanoma have a better prognosis today because of immunotherapy.
Melanoma is a very serious cancer.  Don't delay your annual or bi-annual skin check! It's better if we catch skin cancer before it grows this big. I take precautions in the office for COVID-19 to keep you safe during your exam.
When you're checking yourself for new moles or growths, the one place on your body that is difficult to check is your scalp. Unfortunately, melanomas on the scalp are more deadly than on other locations of the body. This could be due to a number of factors including the anatomy or biology of the scalp and the fact that the melanoma can go undiscovered by the patient because it is hidden by hair.
A thorough skin exam by a board certified dermatologist is so important to locate hard-to-find skin cancers. In addition, on an ongoing basis, you can ask your hair care professional to let you know if he or she sees anything unusual on your scalp during your haircuts.
Melanoma is the most deadly skin cancer because of how quickly it spreads in your body.
Symptoms and the appearance of a cancerous lesion can vary widely and sometimes they are not obvious. It could be painful or sensitive to the touch, but not necessarily. It might bleed. And it could be just about any color or a combination of colors: brown, black, white, red and even blue. It could be raised or flat. Look carefully because these spots can be very small.
A recurring theme I've seen in my career is even when a primary care physician refers a patient to a dermatologist due to a scalp lesion or any other suspicious spot, the patient delays a few months in making the appointment, and by that time the skin cancer has spread to the lymph nodes or other parts of the body.
My patient granted Dermatology Boutique permission to post her photo on my social media and patient communications. I am grateful that she allowed me to share her photo to help educate my other patients and social media followers.