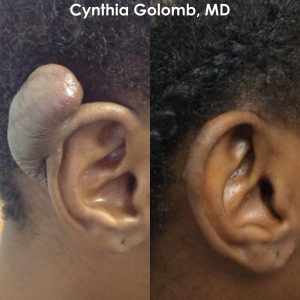 This young lady had keloids on the top of both ears, caused by piercing the upper cartilage of her ears, often called helix piercing.  Unfortunately, her body's reaction to this piercing was to create excessive scar tissue.
As I often do, I worked on one ear first to see how her body would respond.  I surgically removed the larger of the two keloids, on her right ear (shown far left), and also gave her a Kenalog shot when she came in two weeks later to have her sutures removed.
In the "after" photo (on the right), the right ear is a little more than one month post op and she's had one injection.
She's so pleased with the result, she came in today to have the other keloid removed from her left ear.
Keloids result from the overproduction of collagen at the site of an injury.  Keloids cause disfigurement, but also can be painful and itchy.  Keloids have a genetic component.   The good news is that keloids do not turn into cancer.
More than one type of treatment may be necessary to get rid of a keloid.
I recommend taking steps to prevent keloids!
If you are considering a body piercing or a tattoo, try a test spot first, wear a pressure earring if you feel a thickening after ear piercing.
Tell the practitioner if you have had keloids in the past.
Keloids take time to appear, so wear sunscreen to prevent the skin from darkening after a wound.
As soon as the wound heals, use silicone sheets or gels which can prevent keloids from forming.
#keloid
#earkeloid
#dermatologyboutique
#miamidermatologist
#skindoctor
#skincare
#healthyskin