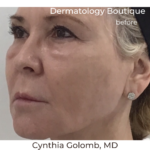 Earlier I posted a video of the CO2 CoolPeel laser treatment to reduce the festoons under my eyes.  Now with these photos, you see what I looked like pre and post-procedure.
Festoons appear below the "eye bags" as a mound or bump around the cheekbones.  Or, a festoon could be sagging skin or folds of skin above the cheek.
I was red immediately after the laser treatment, but the CoolPeel has less downtime and less redness than older technology CO2 lasers.  The CoolPeel's new technology delivers energy more precisely, without a lot of thermal damage to the skin, so recovery is faster.
The laser can be set to mild, moderate or aggressive and the downtime increases with the intensity of the treatment.
The treatment I had was moderate and addresses fine lines, superficial wrinkles, dark circles and festoons.  The cost for this treatment under the eyes is $850.  The downtime is 3 to 5 days.  You can begin wearing makeup in 2 to 3 days.
Laser resurfacing with a CO2 laser encourages the skin's natural healing process and revitalizes the area by creating better support in the skin.  It also tightens the skin by "shrinking" tissue.
My CoolPeel CO2 laser can be customized to your unique needs — it is powerful, fast and gives fabulous results.  After your treatment, your skin will look smoother, tighter, fresher and more youthful.