Minimize fine lines, smooth wrinkles, reduce stretch marks & acne scars with microneedling.
Skin thickness is a feature of youthful skin and unfortunately skin thins as we age.  Thin skin shows fine lines and wrinkles more.  Microneedling increases skin thickness!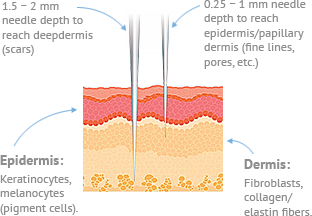 What is microneedling?  Tiny surgical needles reach underlying skin layers to prompt the skin's healing response without significantly damaging the epidermis.
Our SkinPen® can be used on the face and other areas on your body with scars or stretch marks.
This skin rejuvenation technology is also safe and effective for darker skin.
Learn more about our new SkinPen.
—
Dr. Golomb is widely considered one of the top dermatologists in Hallandale Beach and regularly welcomes patients for microneedling from Aventura, Sunny Isles Beach, Golden Beach, North Miami Beach, Pembroke Pines & Hollywood, Fl.