CoolPeel CO2 Laser Resurfacing
Sun damage can often cause fine lines that cannot be corrected with fillers.  For years, CO2 laser resurfacing has been the way to get rid of wrinkles and tighten skin.  But the aggressive, ablative (removal of skin) treatment required several weeks of downtime with red, raw oozing skin.
New fractional CO2 lasers changed all that.  Our new, CoolPeel CO2 fractional laser treatment produces skin resurfacing results without the lingering heat that damages surrounding skin.  Unlike regular CO2, the CoolPeel has minimal risk of hyperpigmentation, demarcation or infection caused by the procedure.
CoolPeel tightens fine lines and wrinkles, reduces sun damage, minimizes pores and improves skin texture and tone with significantly less downtime than regular CO2.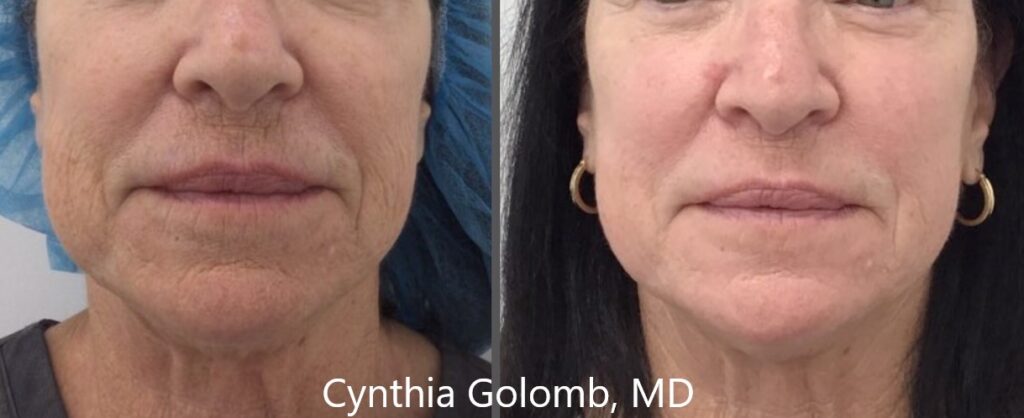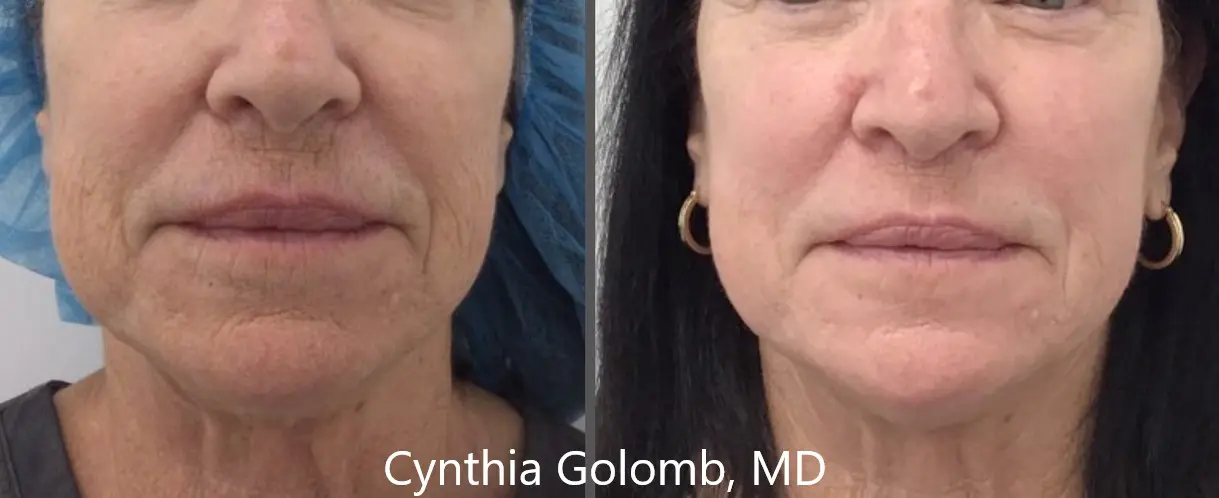 We'll apply numbing cream prior to your treatment.  Your procedure will take about 15-20 minutes for a full-face treatment.
You will look like you have a sunburn after the treatment for a day or two.  If you requested a more aggressive treatment, you may have redness for 3 to 4 days.  Your skin may feel dry or scaly as it heals—keep your skin hydrated after the procedure.  We will provide detailed instructions on your post-treatment care and when you can return to your daily skin regimen.
Looking for significant results with minimal downtime?  CoolPeel will help with your stubborn crows feet, lipstick lines, smile lines and pore size.  CoolPeel will reveal your healthier, younger-looking skin!
Clear + Brilliant Laser
Clear + Brilliant is simple, effective and affordable.  This unique treatment uses safe fractional laser technology to address the early signs of aging skin and helps to prevent them. It refreshes your skin from the inside out, addresses pigment and reduces pore size. Patients report looking younger.
In the photo below, the patient has photo damage on her chest, which is caused by sun-exposure. Photo damaged skin can get wrinkled, rough, mottled and hyperpigmentated. After several Clear + Brilliant treatments this patient can expect improved pigment and texture.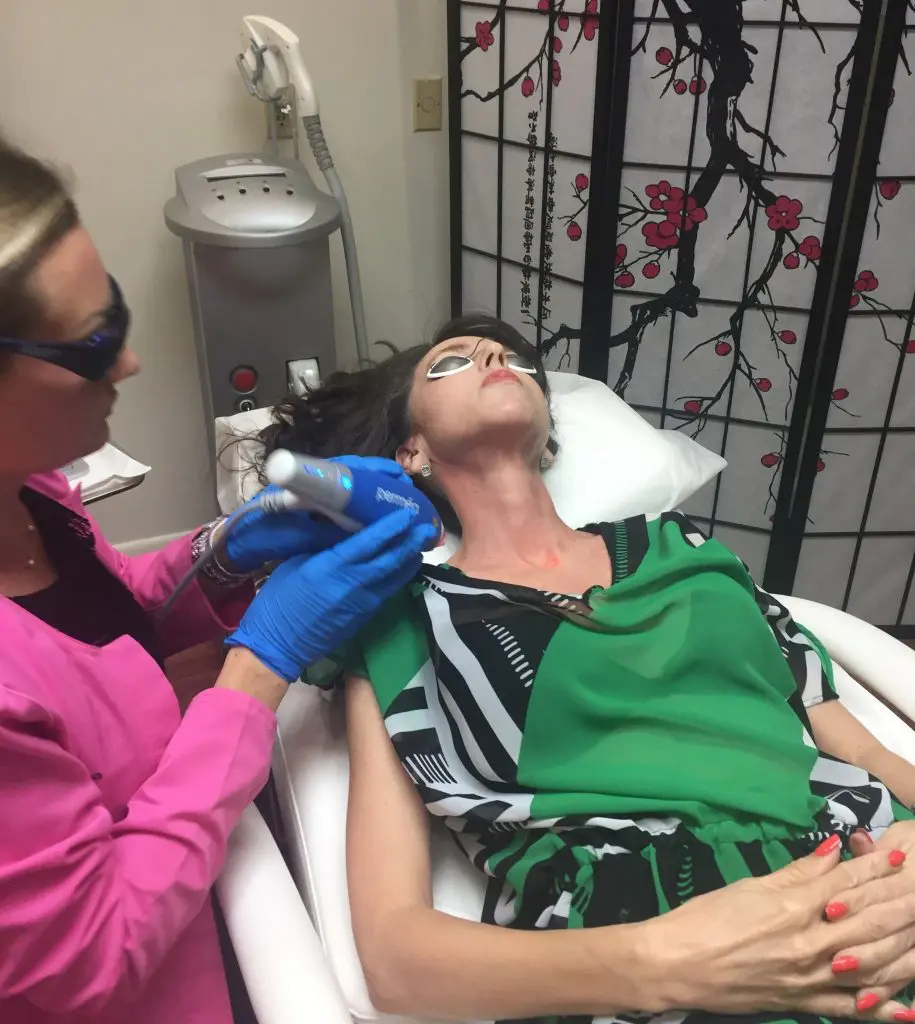 Watch these Clear + Brilliant treatment videos to see how easy and painless it is!
excel V Laser Genesis
Tired of trying to camouflage redness and blood vessels on your face with yellow and green concealer? With a few excel V Laser Genesis treatments, you could experience a significant decrease in redness, including rosacea flushing.  Spider veins disappear during treatment as the excel V "erases" them.  The excel V also prevents acne, shrinks pores and can address brown spots from sun damage.  Safe for all skin types, the excel V is virtually painless and there's no down time.
In this video, I'm treating sun damage on the neck (poikiloderma) with the excel V laser.  Poikiloderma is often found on the sides and front of the neck, frequently in middle-aged and elderly women. The affected skin appears red/brown.  After treatment, many patients have a hive reaction, which is easily treatable with antihistamine and the swelling dissipates in a day or two.
Hair Removal Laser
Tired of shaving or waxing? Say good-bye to unwanted dark or coarse hair anywhere on your body:  upper lip, chin, underarms, back, bikini area, arms and legs.  Prices depend on the size of area for hair removal.  Our gentle laser can be used on all skin types.
Blue Light (Photodynamic) Therapy
For acne, many patients say the treatment rejuvenates their skin in addition to clearing up acne.  The light treatment only takes a little over 15 minutes, but you need to avoid the sun and any bright light after treatment.  So plan ahead when scheduling your appointment so that you can stay out of the sun.  You'll want to bring a wide-brimmed hat and we will apply sunscreen before you leave.  Afterward your skin will be red, maybe swollen and your skin may peel.  But all of this is temporary and should clear up in a month.
For treating precancerous spots, the use of blue light (photodynamic) therapy is covered by Medicare.  If you are fair skinned and of a "certain age" you may have scaly little spots on your face and scalp caused by the sun, called actinic keratosis, or AKs for short. These spots are considered pre-cancerous.  While we often treat AKs by freezing each one with liquid nitrogen, there is another treatment option:  photodynamic therapy.  A recent study compared light therapy to cryotherapy found that those who had the light treatment were 14% more likely to have their lesions eliminated.
IPL (Intense Pulsed Light)
Intense Pulsed Light treatments, also known as photo facials, can address many troubling skin conditions such as acne, rosacea, brown spots from sun damage and superficial veins and capillaries. The non-laser light energy destroys darkened pigment and the surface blood vessels resulting in more even skin tone. 
IPL results shown on leg.