AQUAGOLD and SkinPen
The SkinPen is the only FDA-cleared microneedling device currently available.  It is a minimally invasive procedure for skin rejuvenation.
What is microneedling?  Tiny surgical needles reach underlying skin layers to prompt the skin's healing response without significantly damaging the epidermis.  This healing process improves the look of your skin.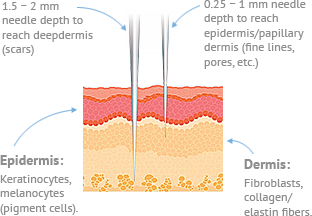 After a series of treatments, fine lines are minimized, wrinkles are smoothed.  It also can reduce stretch marks and minimize acne scars.
This skin rejuvenation technology is also safe and effective for darker skin.
The procedure is virtually pain free!  Microneedling procedures are spaced four to six weeks apart to get maximum benefit of the skin's natural healing process.
Unlike other minimally invasive procedures, like microdermabrasion, microneedling works below the skin's surface to stimulate your body's production of collagen and elastin.
The SkinPen disposable needle cartridges are sanitary and can reach small areas — it can be used on the face and other areas on your body with scars or stretch marks.
What you do after a microneedling procedure is almost as important as the procedure itself!
Post-procedure Care
The post-procedure products used in conjunction with the SkinPen contain essential ingredients that lubricate, soothe, and nourish the skin.  Equally important, they are free of ingredients that could interfere with healing.  As a result, these products work as a catalyst to help the skin's tiny wounds heal faster.
It is recommended that patients should never put anything on the skin in the procedure area other than products in the Skinfuse® regimen. Other products may contain ingredients that could cause complications rather than assist the skin's natural healing process. Products to avoid include cleansers, moisturizers, sunscreen, and cosmetics.
The Skinfuse treatment kit will contain everything you'll need, including:
PURIFY Cleansing Complex
RESCUE Calming Complex, which reseals the skin barrier and helps reduce inflammation
RECLAIM Hydrating Support, which supplies essential skin cell nutrients and hydration
FORTIFY Vita C Serum, which protects and strengthens skin
SHIELD Zinc Oxide 21% SPF 30, which is a sunscreen
The post-care treatment kit comes with instructions regarding when to begin using each of these products, how to use them, and how often.
AQUAGOLD
Easy, quick and simple procedure that's pain free.
AQUAGOLD has been around for at least ten years.  It is a microneedling device that was first used in France.  It is simply an old technique that just became popular in the United States, and now it is catching on everywhere.  It is for patients who want moderate enhancement and don't require dramatic improvement.
If you are new to cosmetic procedures or are younger, AQUAGOLD might be a good introduction for you.  With AQUAGOLD you may have some redness, probably for about 24 hours.  The device delivers treatments with 24K pure gold-plated surgical grade stainless steel microchannels, each thinner than a human hair.
AQUAGOLD can help with pore size and fine lines by infusing vitamins, antioxidants and microdoses of filler or neuromodulators (Botox, Dysport or Xeomin).  In the AQUAGOLD vial, we will create a customized "cocktail" of serums or injectables to address your skin's special needs.  
AQUAGOLD does not get rid of deep wrinkles or lines, so it is not a replacement for Botox or filler injections, even though its needles can deliver micro amounts of Botox or filler.
Looking for microneedling with skin-tightening capability?  Check out Genius.