Silhouette InstaLift — Now at Dermatology Boutique
Silhouette InstaLift is one of the latest facial rejuvenation procedures using micro-suspension technology.  Perhaps you've read about it in a magazine or seen it on TV, like this show below:
Sagging skin is a major contributor to an aged and tired appearance. Silhouette InstaLift is a minimally invasive, in-office procedure to re-contour your mid-face by lifting the deeper layers of your skin for a more youthful appearance.
I can answer all of your questions about the procedure and create a treatment plan to ensure you achieve the natural-looking results you desire.
Silhouette InstaLift is FDA-cleared and made from a well-known polymer that is frequently used in medical devices and is well tolerated by the body.
Treatment pricing varies depending on the patient's needs and the number of sutures required. The average range is $850 to $2,500.
Are you a candidate for an InstaLift?  If you want to refresh your appearance without major surgery, injections, or lasers, this might be the new and unique technology for you to lift sagging facial skin or jowls. Suitable candidates have good skin quality, with moderate sagging of the skin in the mid-face. The skin should not be too thick/heavy or too thin.
During a short in-office procedure, I will insert the patented Silhouette InstaLift sutures to lift the deeper layers of the skin in your mid-face or cheek area.  As you see in the photo, I first mark the insertion and exit points on your face with a marker.
The treatment does not require general anesthesia, but I will give you local anesthesia so you won't feel a thing.
The procedure takes approximately 45 minutes. You will see immediate lifting with a volume increase over time and recovery time is minimal.
The unique Silhouette InstaLift sutures are naturally absorbed by your body over time and stimulate the production of collagen to aid in healthy skin renewal for natural looking, long lasting results.
Above, my patient's jawline is tightened and the InstaLift also lessened the lines around her mouth.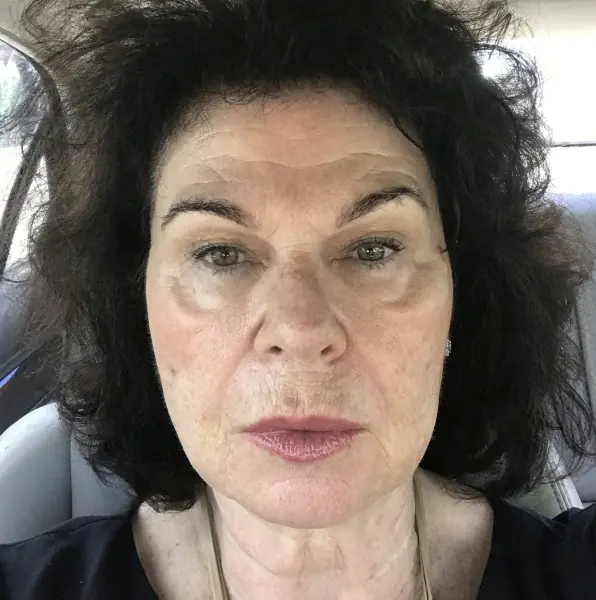 Above, my patient's jawline and jowls were tightened with Silhouette InstaLift. Also, notice how her nasolabial lines (that run from the bottom of the nose to the corners of the mouth) are significantly lessened.